Shavuot
Shavuot is the Hebrew word for "weeks" and refers to the Jewish festival marking the giving of the Torah at Mount Sinai, which occurs seven weeks after Passover. Shavuot, like many other Jewish holidays, began as an ancient agricultural festival that marked the end of the spring barley harvest and the beginning of the summer wheat harvest. In ancient times, Shavuot was a pilgrimage festival during which Israelites brought crop offerings to the Temple in Jerusalem. Today, it is a celebration of Torah, education, and actively choosing to participate in Jewish life.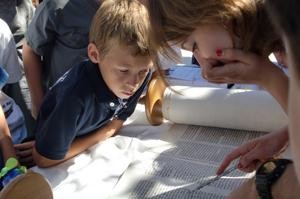 Celebrate Shavuot with Shalom Sesame
Together with your children, watch these Shalom Sesame videos to learn about Shavuot and celebrating the Torah. Then try some of the discussion ideas and activities recommended by Reform Jewish educators to further extend the lessons learned in the videos.
Grandma Lucilles Blintz Souffle
Using frozen blintzes makes this a fast and easy festive meal!
Wed, December 11 2019
13 Kislev 5780
Friday night service
7:30pm
Our Friday evening service is followed by a delicious oneg Shabbat.
Saturday morning service
10:00 am
Our Saturday morning Shabbat service is followed by a Kiddush luncheon.
Wed, December 11 2019 13 Kislev 5780